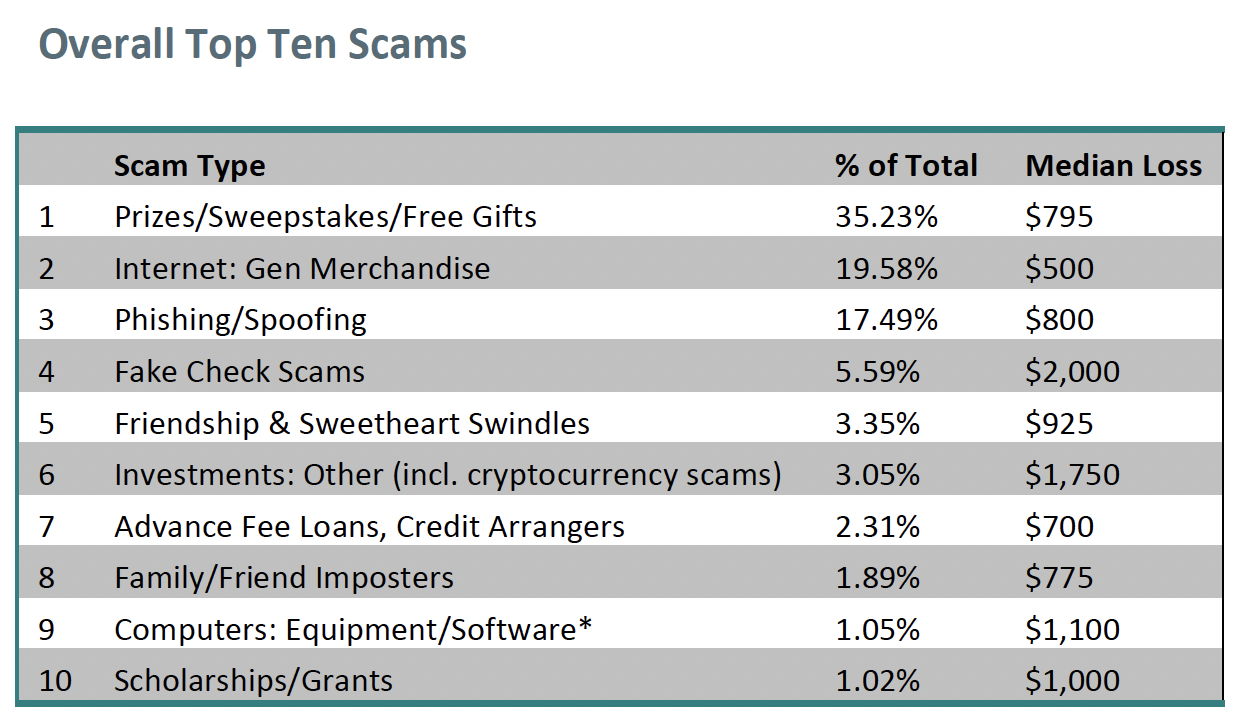 Fraud losses hits 10-year high
The last 3 years have been especially trying for everyone, but scammers have continued to use the pandemic and its aftermath to make their crimes ever more lucrative. More than one in four consumers (41.49 percent) who filed complaints at Fraud.org reported a loss. While that number was a slight dip from the 43.19 percent who reported losses in 2020, the median fraud loss was $800, which is the highest since 2012. The percentage of complaints that included a reported loss peaked in 2019, with nearly half (47.48 percent) of all complainants reporting a loss that year. This increase could be attributed to scammers' tactics becoming more effective, consumers becoming less resistant to fraudulent schemes, or some combination of the two.
One Of The top scams: Bogus prizes and sweepstakes fraudComplaints about scams involving fake prizes, bogus sweepstakes, and "free" gifts were the top complaint consumers reported to Fraud.org in 2021. In 2020, such complaints made up nearly a quarter (23.78 percent) of the reports received. In 2021, these complaints made up more than one in three (35.23 percent) of complaints, an increase of more than 48 percent year-over-year. Investment scams, many tied to cryptocurrency, were the fastest growing type of complaint in 2021, with complaints more than doubling (168 percent increase year-over-year). This increase correlates with data released last spring by the Federal Trade Commission, showing a dramatic increase in cryptocurrency investment scams, often fueled by social media.
Phone, the web continue to be scammers' contact methods of choice With email spam filters getting progressively better, phone and the Web continued to be the most frequent ways that consumers reported being contacted by scammers. Combined, they were the first method of contact in more than 81 percent of complaints (44.48 percent phone; 35.94 percent Web).
Credit cards remain top target, but scammers are looking to other payment methods Getting access to consumers' credit card information continued to be the top way that scammers sought to obtain funds in 2021, with 44 percent of complaints with a loss reporting funds were sent via credit card. However, other payment methods such as gift cards, cryptocurrency, and peer-to-peer apps continue to gain popularity for fraudsters, increasing by nearly half (45.28 percent) year-over-year. One reason for this popularity, we believe, is that funds sent via one of these methods is available to the scammers quickly and, often, anonymously. Fraud.org continues to press federal regulators to do more to plug loopholes in federal consumer protection laws like the Electronic Funds Transfer Act that allow these new payment platforms to be abused.
Meet the scams: The worst of 2021Prizes/Sweepstakes/Free Gifts Requests for payment to claim fictitious prizes, lottery winnings, or gifts
Internet: General Merchandise Sales (not auctions)Goods purchased are either never delivered or misrepresented
Phishing/Spoofing Emails pretending to be from a well-known source ask consumers to enter or confirm personal information
Fake Check Scams Consumers paid with phony checks for work or for items they're trying to sell, instructed to wire money back to buyer
Friendship & Sweetheart Swindles artist nurtures an online relationship, builds trust, and convinces victim to send money
Investments Investment opportunities in: day trading; gold and gems; art; rare coins; other investment products; reports about companies that offer advice or seminars on investments; etc.
Advance Fee Loans, Credit Arrangers False promises of business or personal loans, even if credit is bad, for a fee upfront
Family / Friend Imposters scammer calls or emails, claiming that a friend or family member is in distress (in jail, in the hospital, etc.) and urgently needs funds to help
Computers: Equipment and Software Scammers claim to offer "technical support" for computer problems and charge a fee to fix a nonexistent problem
Scholarships/Grants Offers of fictitious "guaranteed" scholarship or grant funds in exchange for up-front payment or personal information.
The bottom line Regardless of the type of scam, many instances of fraud can be avoided by remembering the old rule of thumb: If something seems too good to be true—it probably is.
If you ever do have questions about a potential fraud or think you might be a victim of a scam, report it immediately via Fraud.org's secure online complaint form. Embarrassment or fear of friends and relatives finding out about the crime causes many victims of fraud to remain silent. Only by speaking out can we give law enforcement the tools they need to bring these criminals to justice.
About this report Fraud.org's Top Ten Scams report is compiled from complaints received directly from consumers. To get more information on these scams or report suspected fraud, please visit Fraud.org.
The Top Ten Scams Report is based on an analysis of 4,309 complaints reported via NCL's Fraud.org website, by phone, and through the mail
Fraud.org is supported by the generous donations by members of our community. You can make a secure, tax-deductible gift at the website.